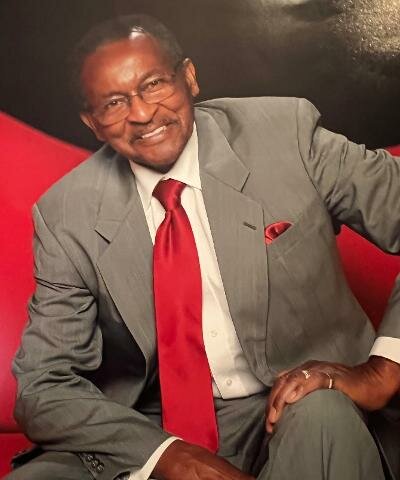 Obituary of Joe A. Sanders
Mr. Joe A. Sanders was born on March 18, 1946 to the late Culey Sanders Sr. and late Martha Ruth Dingle, in Cross, South Carolina. He transitioned on the morning of September 23, 2022 at the University of Maryland Capital Region Medical Center, Largo, Maryland due to various medical challenges encumbered over the past eight months.
Joe A. Sanders was raised in Cross, South Carolina and attended Central Elementary and Central High School where his area of concentration was Vocational Education. He was a graduate of the High School Class of 1965. Joe was always eager to learn and contribute. Joe was much admired and appreciated for his energy and enthusiasm throughout the community – a tribute to his late parents and close relatives.
Joe was married to the late Mary Williams and to that union was blessed with three sons - Gregory Sanders (Margie), Gerald Sanders and Brian Sanders (deceased).
On August 1, 2003, Joe married Jennie Jones and their union was blessed and highly favored with many friends, relatives, and many special memories for nineteen years.
Joe was the oldest of six siblings - Leroy Sanders (deceased), Loretta Brown (Joe (deceased)), Alvin Sanders (Francella), Culey Sanders Jr, Donald Sanders (Ann), and Clayton Sanders; grandchildren: Denia, Kyle, Gregory Jr., Kevin (Jordan), and Elton; three great grandchildren; three godchildren: Crystal Mays, Kendra Brown and Ashton Murphy; and a host of nephews, nieces, other relatives, and special friends.
Service To God
Joe joined the Bethesda Baptist Church in 1968. He placed the cornerstone for the church. He served as a committed Trustee and sang with the Male Chorus and Fellowship Choir. He enjoyed attending Sunday School. Joe thoroughly enjoyed working around the church and using his God-given skills, talents and knowledge to address the needs of the church. He had a passion for taking photos of church activities and photography at large. Joe's life is one of an authentic servant-leader. His enormous passion for God, Family, and Community was relentless and far-reaching. Joe was a contributor and supporter of his hometown community. Over the years, Joe contributed to various organizations and activities within the Cross community – the Jehovah A.M.E. Church, the F&AM Masonic Order/Lodge, the Cross Community Center and a contributing founder of the Charleston Black History Museum in Charleston. He enjoyed hosting annual family and friend gatherings both in the community and at his home. Joe was a loyal supporter of attending events for family members as well. He had a passion for taking care of the lawn and thoroughly enjoyed boating with his family, to include traveling and cruising. He loved inspiring and entertaining children.
Joe was a businessman. He started his first business cutting hair as a teenager. The community families brought their children to get haircuts. Adults came as well. He came to Washington DC in 1967 as a bricklayer. He worked for other companies until he acquired the necessary resources to start his own business, Sanders Masonry Inc. The business has been flourishing for 47 years now. He gave many working opportunities to his family members, friends, and acquaintances. He held strong work ethics and a sense of fairness. He received several Small Business awards from Prince George's County. The company is an accredited Minority-owned Business. His Legacy will live on!
In lieu of flowers, donations can be made to the Joe A. Sanders Masonry Vocational Tech Education Fund
o At this time, donations can be made through either check, money orders, or cashier/certified checks
o Please send all donations to the following address:
Sanders Masonry, Inc.
202 Queen Marie Court
Upper Marlboro, MD 20774
Proudly Serving the Washington, DC Metro Area