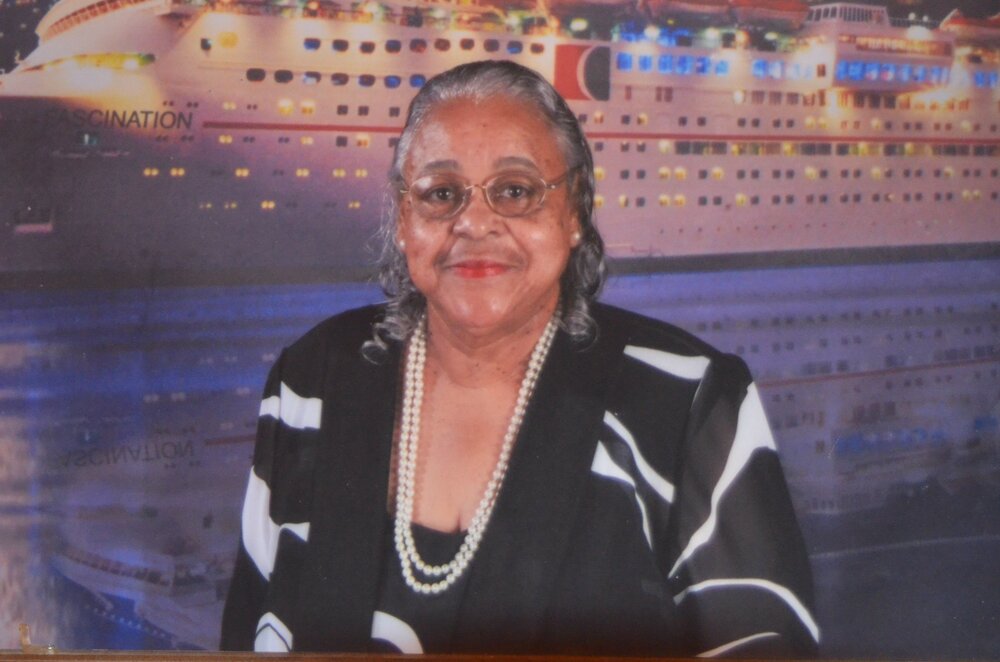 Obituary of Esther Carter
Esther Althea Carter, known to all as "Tippy" was born on March 2, 1934 in Manassas, VA to the late Cassius Gordon Murphy, Jr. and Lucy Lucille Tolliver Murphy Cole. She was raised by her grandparents, Richard and Shirley Haley Tolliver. She and her cousin Libby grew up as sisters rather than cousins.
"Tippy" attended Brown School and Manassas Industrial where she met and befriended Loretta Harrod-Berry. She would take the bus with her and spend most weekends at Loretta's house in Vienna. Loretta in- troduced Tippy to her cousin, Charles Carter, Sr., who became the love of her life. They were married on September 20, 1950. From this union seven children were born; Gordon, Anthony, Glenn, Grailing, De Armond, Charles, Jr. and Jocelyn.
Tippy was baptized at the Carter Farm stream and became a member of First Baptist Church of Vienna in 1953. She was a member for 69 years.
Being the Mother of seven children herself, she was considered the "Mother of the Carter Neighborhood." The older and younger generations of the Carter Clan were always there. As family, we would travel together to places like Manassas, Glen Echo Park and Marshall Hall. She was a Mother to all and the Carter household was the place to hangout for the neighborhood boys, Cliff Simmons, Danny & Alfred Bunaugh, and lots of their school friends. When her four sons integrated Vienna Little League and Babe Ruth Leagues. She was always there to cheer them on.
When the baby, Jocelyn, was ready to attend school Tippy went to work for BDM until she retired in 1986.
Tippy loved to travel and went on several trips with the Matadors and We, Us, and Friends social clubs and First Baptist Church. Tippy's true happiness was visiting family and close friends.
Her favorite time of year was Christmas... shopping, listening to "All I Want for Christmas" by Mariah Carey and "Silent Night" by Temptations, and spending time with her Grandchildren. She also loved watching her Westerns.
She loved to keep busy and after her husband's death she went back to work, this time for Fairfax County Public Schools as a bus attendant until retirement in 2016.
She's preceded in death by husband, Charles Carter, Sr.; sons, Gordon and Charles, Jr. Her parents, Cassius Gordon Murphy, Jr. and Lucy Coles, and stepfather, James Coles and her close cousin-sister, Elizabeth Coates.
She leaves to continue her legacy of love and family: her children, Anthony (Robert), Glenn Sr. (Joyce), Grailing (Joyce), De Armond, Jocelyn (James, Jr.); Alfred Bunaugh (Tijuana), and Sheila Alexander (Jerrie); 15 grandchildren; 26 great-grandchildren, and 16 great-great grandchildren. Her sister, Cynthia Thomas and brother-in-law, Joseph Thomas, three nephews, Andre Carter, Maurice Payton and Michael Thomas, and one niece, Crystal Thomas. Three first cousins: Patty Davis, Dudley Lynn, and Roxie Murphy; Three Special Cousins: Arlene Holliday, Rev Ernest Davis, and Sydney Murphy. Her Best Friend, Cleo Pinkett and a host of family and friends.
To send flowers to the family or plant a tree in memory of Esther Carter, please visit Tribute Store
Visitation
10:00 am - 11:00 am
Saturday, July 2, 2022
First Baptist Church of Vienna
450 Orchard Street NW
Vienna, Virginia, United States
703-938-8525
Funeral Service
12:00 pm
Saturday, July 2, 2022
First Baptist Church of Vienna
450 Orchard Street NW
Vienna, Virginia, United States
703-938-8525
Burial
Pleasant Valley Memorial Park
8420 Little River Turnpike
Annandale, Virginia, United States
7039783900
Proudly Serving the Washington, DC Metro Area