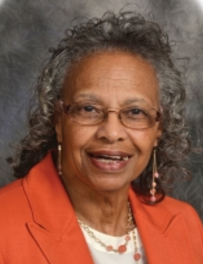 Obituary of Carrie Delois Wiggins
JOURNEY OF LIFE
Carrie Delois Wiggins was born on March 8, 1940 in Nash County, North Carolina to the late Pinkie Ricks and Luther Drewery. She entered eternal rest on Wednesday, April 28, 2021.
Carrie (affectionately known as "Tanzie") married her hometown sweetheart, Joseph Wiggins, Jr. in 1958, who preceded her in death. Through this bond, three energetic sons were born: Calvin and Joseph III (both preceded her in death), and Craig Mario. She also had a deep love for her loyal snack-buddy poodle companion, PJ. While she was the biological mother to her three sons, she was a fully committed, devoted, and loving mother-figure for several sons and daughters, including Anthony Baldwin (Cecilia), Kevin Harper (Robin), and Kisha Brown-Tuck (Melvin).
Carrie was a long-time resident of Hyattsville, Maryland where she lived in a caring community. She had an extensive career, retiring with over 38 years of commendable service
as a Dietary Leader at Howard University Hospital, previously the historical Freedmen's Hospital.
Carrie joined Mount Pleasant Baptist Church on October 1, 1972, under the Pastorate of the late Reverend Sydney T. Yancey. She remained a faithful member of Mt. Pleasant Baptist Church for 49 years under the Pastoral leadership of Reverend Terry D. Streeter until she was called to eternal rest. Carrie served as a longtime member of the 2nd and Sanctuary Choirs. She loved church, fellowshipping, and fun-filled times she shared with family and friends.
Carrie served as a Past Matron of Naomi Chapter No. 9 of the Order of the Eastern Star since September 26, 1995 and as a Worthy Matron in 2004. She maintained her membership until she was called to enter the mansion prepared for her when she went to her sweet and well-deserved rewards.
Carrie was known to everyone for her smile, laughter, and larger than life personality. She was a plant enthusiast who especially enjoyed keeping in touch with family, friends, and playing video games and find-a-word puzzles. Carrie was a true matriarch, emphasizing love and family, the importance of finding joy in life every day, and having hope in your heart. She was a generous spirit with a kind, virtuous soul. We will never forget her exceptional and beautiful life. Her memory and love will be in our hearts forever.
Mourning her loss but celebrating her life and cherishing her memories are her loving son Craig Mario (Bobbie) Wiggins of Middleburg, Florida; sister, Betty Ricks of Baltimore, Maryland; brother, George Ricks (Ann) of Dover, Delaware; grandson, Joseph Alexander Wiggins (Cleana); granddaughter, Jovay Wiggins-Ogundipe (Ayoade); and a host of nieces, nephews, cousins, and life-long friends.
Family and Friends may view the services of Carrie D. Wiggins via Livestream at www.mpbcdc.org or by phone at 425-436-6317 Access code: 670638#
Donations in memory of Carrie Delois Wiggins may be made on-line to Mount Pleasant Baptist Church-Willing Heart Fund at www.mpbcdc.org.
To send flowers to the family or plant a tree in memory of Carrie Wiggins, please visit Tribute Store
Visitation
10:00 am - 11:00 am
Friday, May 7, 2021
Mount Pleasant Baptist Church
215 Rhode Island Ave NE
Washington, District of Columbia, United States
Celebration of Life
11:00 am
Friday, May 7, 2021
Mount Pleasant Baptist Church
215 Rhode Island Ave NE
Washington, District of Columbia, United States
Interment
Maryland National Memorial Park
13300 Baltimore Ave
Laurel, Maryland, United States
Proudly Serving the Washington, DC Metro Area