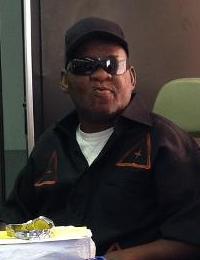 Obituary of Fletcher E. Watson
Life Reflections
Fletcher E. Watson
October 12, 1949 - November 10, 2020
He will wipe away every tear from their eyes, and death shall be no more, neither shall there be mourning, nor crying, nor pain anymore, for the former things have passed away. -Revelation 21:4
Fletcher Watson was born to the late Charlie Watson Sr, and Jessie Beale on October 12, 1949. He concluded this walk of faith on November 10, 2020 at the Stoddard Baptist Nursing Home.
He was preceded in death by his stepfather James Beale Sr; three Brothers James Beale Jr and John and Sylvester Watson; two sisters Louella Hawkins and Angie Smith.; one aunt Eunice Johnson and two uncles Charlie and Willie Ward.
He was educated in the Washington DC School System. Fletcher Watson worked at many hotels throughout the Washington DC Area later retiring from the United States Park Services.
Fletcher loved for his nieces and nephews know to them as "Uncle Fletch" he had a special love for his niece Marasha and her two girls: Maquisha and Emani, he cherished the times he spent walking them to and from school his nephew Jermal was one of his favorites . During his years when he became ill, he often called his sister Eunice to complain about his sister Zelma who was always by his side "I believe he thought telling Eunice would get Zelma in trouble" Fletcher sister Sheron as well was always there to help and support him during the years when he became ill although he knew it was best not to complain about Sheron. Fletcher had a special love and relationship with his late brother Sylvester and his brother Joseph.
Fletcher was a member of the Purity Pentecostal Deliverance Center where until his health felled, he enjoyed attending services.
He leaves to cherish his memory - six sisters; Gloria and Zelma Watson, Eunice Peyton, Sheron Beale, Edith Dancy and Gail McDonald. Five brothers; Willie, Charlie and Joseph Watson, Charles Beale and Michael Taylor. Four sisters- in-laws; Peggie and Dorothy Watson and LaQuisha and Vicki Beale and as Fletcher would call her "Vicki Lick". One brother in-law Michael Peyton Sr as well as a host of nieces and nephews, cousins and friends.
To send flowers to the family or plant a tree in memory of Fletcher Watson, please visit Tribute Store
Viewing
11:00 am - 12:00 pm
Saturday, November 28, 2020
Purity Pentecostal Deliverance Center Ministries
3400 18th St NE
Washington, District of Columbia, United States
Celebration of Life
12:00 pm
Saturday, November 28, 2020
Purity Pentecostal Deliverance Center Ministries
3400 18th St NE
Washington, District of Columbia, United States
Proudly Serving the Washington, DC Metro Area