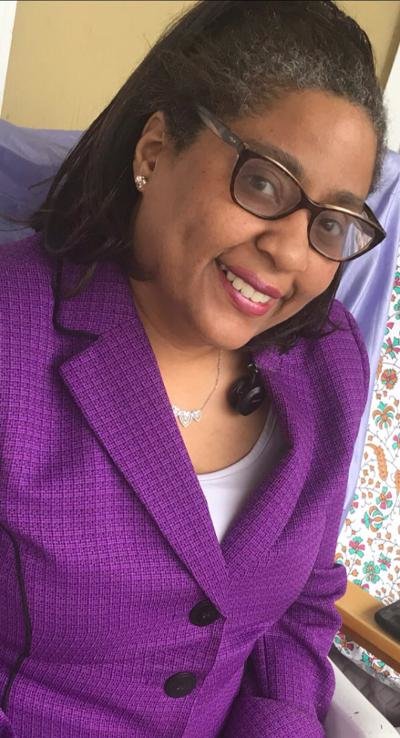 Obituary of Karen Stefani Kelly
Obituary
Whoever dwells in the shelter of the Most High will rest in the shadow of the Almighty. I will say of the LORD, "He is my refuge and my fortress, my GOD, in whom I trust." Psalm 91:1-2
Karen was born on January 4, 1968 in Washington, D.C. to Joan and Elijah Kelly, Jr. Karen had one older sister, Lisa and one twin brother, Keith. She was raised in Silver Spring, Maryland where she attended Barrie Day School, The Cynthia Warner School, White Oak Jr. High School and Regina High school. Karen was a graduate of Howard University where she received her undergraduate degree in Human Development in 1990 and her Master's Degree in Social Work in 1995.
Karen was baptized at Bethesda Baptist Church in 1978 by the late Rev. John D. Bussey. She was a current and active member there for many years, serving in the Health Ministry, as well as in the Audio-Visual Ministry, recording and making tapes and CDs of services and other special events at the Church. She also worked in the First Aid Unit and served at Vacation Bible School as a nurse for several weeks every summer.
Karen worked numerous jobs. She was an Early Educational Teacher's Assistant at the Department of Agriculture, a Medical Assistant at the medical office of Dr. Raymond Cutts, OB/GYN, a Social Worker at Child and Family Services and currently was a Licensed Social Worker at the United Medical Center in Washington, D.C. Karen served her community for many years on the Volunteer Board of the American Diabetes Association as the Vice-President of African American Initiatives in the D.C., Maryland, and Virginia area, where she would host seminars, health fairs, and informational sessions promoting the benefits of proper self-care for the diabetic population in churches and other faith-based institutions with her sister Lisa. Although she had very demanding jobs, she loved what she did because she loved to help people. She always put
others' well-being and care above her own.
Karen was a beautiful soul with a pure heart. She loved life and loved those in her life. Most of all she loved her family. She loved her aunts, uncles and countless cousins. If there was a family function anywhere, you could count on Karen being there. Karen was a devoted and caring daughter who tirelessly took care of her mother and father. She was a loving and selfless sister to Keith and Lisa. Karen always cherished the special moments that she had with her big sister, especially Sunday meals at Lisa's house. Karen came into this world with her other half and best friend, Keith. You could not say Karen without saying Keith. Growing up they shared everything. Karen would always say that they even shared dimples. Keith's is on the left side and Karen's was on the right. They shared an unbreakable bond which is now a heavenly cord which will forever bind them together. Karen was an amazing aunt who loved spending time with Shelby, Nicholas, Priya and Jaya. She never forgot their birthdays or any special event and was always their biggest cheerleader. Karen was a giving aunt who always made them smile.
Karen believed in the importance of holistic wellness and you could always find her at Massage Envy on Sundays after church getting her massage and purchasing the latest scent of aromatherapy. She loved singing, laughing and having fun, especially with those she loved. She loved to travel and sit on the beach. Her infectious laugh and smile could always brighten any room. Her faith in Christ was the cornerstone of her life and if you knew Karen you knew that she lived her life with purpose, humility, and a genuine love for others. No matter what you were going through, she would always remind you that "God is Good."
Karen was beautiful, smart, kind and created by God and lent to us for a while. He called her into her eternal rest on October 28, 2020 and on that day she flew away. May God bless the spirit, memory and legacy of the Beautiful One that we called Karen Stefani Kelly, until we meet again, God Bless you.
To send flowers to the family or plant a tree in memory of Karen Kelly, please visit Tribute Store
Visitation
3:00 pm - 7:00 pm
Friday, November 13, 2020
New Smyrna Missionary Baptist Church
4417 Douglass St NE
Washington, District of Columbia, United States
Proudly Serving the Washington, DC Metro Area