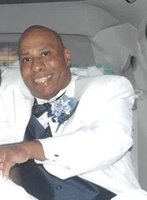 Alvin Bernard Crawford
Alvin Bernard Crawford was called home by his heavenly father on Tuesday April 26th 2022. Bernard was born on October 17th 1954 in Washington DC. He was the second child of three children born to Cleveland Crawford, Sr. and Pauline Robinson Crawford.
Bernard was educated in the DC public school systems graduating from Dunbar senior high school. He later joined the Navy in 1974,where he served for eight years. He was honorably discharged from the Navy due to kidney disease. He was employed by the Treasury Department and later worked for the Veteran Affairs Medical Department. He was employed as a computer programmer. His employment allowed him to interact and meet a lot of wonderful people through the years.
After the Navy, he married and had one son Terrence Crawford, years later they were divorced.
In 1985, he met his precious "ROSE". He dated her, married her, and loved her until death did them part. He said, "SHE WAS THE BEST WOMAN HE EVER HAD".
Bernard was a music lover who enjoyed listening to "Chaka Khan" especially. Bernard enjoyed dancing, singing, traveling, playing games and spending a lot of quality time with his precious "Rose".
Bernard was preceded in death by his father Cleveland Crawford, Sr., his mother Pauline Robinson Crawford, son Terrence Crawford, his eldest brother Cleveland Crawford, Jr. He leaves to cherish his memory: his loving wife Rosie M. Crawford, one brother Dwayne Crawford, two sister-in-law Angelyn D. Smith, Marion Crawford, three aunts Ilar McDonald, Blanche M. Haley, Nancy Jackson, nephews Herbert Black, Eduardo Crawford, Eddie E. Smith, Jr., one niece Stephanie L. Smith, a host of cousins, six close friends Wayne, Keith, Jeff, Kevin, Lorenzo, Jerome, amazing neighbors like Ms. Green, Yvonne and others which he considered his family and friends.