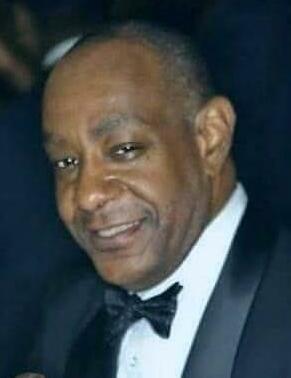 Howard Cook
On Wednesday, February 16, 2022, God saw fit to call Howard Cook from his fullness of life. While it may have been a surprise, shock, and unexpected journey for us, Howard was prepared and ready to take his rightful place with God.
Howard Cook, son of the late Rose M. Gant and Elmer Gant, was born in Arlington, VA, on June 4, 1962. He spent his childhood growing up in the Nauck "Green Valley" neighborhood in South Arlington. One of his first jobs as an entrepreneur was selling the "Green Valley Newspaper." Howard took pride in selling the information of the community along with activists like the late John Robinson. Many of you frequent Facebook, seeing Howard posting information, and at times "too much" for some, but it was because he was determined and trained by late John Robinson himself to get the news out.
Howard was baptized at the Lomax African Methodist Episcopal Zion Church and was very active. He served as the Director of Youth, where he engaged and equipped young people to teach the foundation of God's word which keeps the interest of many adults today. Howard's love for learning, fun and new interest was contagious. You didn't have to be a member of Lomax to take part in Sunday school, plays, parties, trips, organized missions, softball, basketball, bowling teams, or sing in the choirs he directed. He later became a Trustee, Director of the Celestial Echoes, and impromptu youth reunion choirs for homecoming. He was known as a powerful First Tenor in many acapella and men's chorales. He's sung with the likes of; Men and Women of the Gospel, Darryl Coley, and choirs on the FedEx Field, just to name a few.
After getting his start in Arlington public schools, Howard graduated from Wakefield High School in 1980. He attended Virginia Union University and received his Bachelor of Arts in Business Administration. While attending Union he pledged Phi Beta Sigma, Incorporated, "Lambda Chapter- Blue Phi" and was the mascot for the university where he adorned the nickname "The Panther." Howard was a member of the Concert Choir that traveled all over the world bringing joy to those who attended. This dynamic concert choir would frequent Arlington or Alexandria, which allowed folks from home to come to see him. After graduating Howard adamantly returned every year to homecomings, celebrating the accomplishments of VUU students, CIAA weekends, and Alumni events. Every athlete on and off the field, on and off the court mattered, and Panther Nation proves thy hallowed ground and dear old walls, may they forever be, dear union we still love thee.
Howard worked for the Arlington County Department of Parks, Recreation, and Community Resources for over twenty-plus years. Working his way up through the ranks and reached back helping many get jobs and implementing new programs. Camp Patahontas will never be the same, as Howard loved the outdoors and love to prank other counselors. He continued to teach new ways to capture the interest of people of all ages. His heart was with the Thomas Jefferson Community Center, Lee, Madison, and Langston centers. After getting credentials in hotel management, and his degree in management and organization development, he introduces Panther Productions Entertainment. This confidence allowed Howard to go where others dared to step and created platforms for the least of them to shine. Most recently coordinating events with Next Level Entertainment. Howard worked as a referee most Saturday morning and during the week. He was an Events Coordinator, as a Facilities and Program Administrator Specialist of foundations and Associations throughout the DC Area.
Later in life, Howard transitioned to Mt. Zion Baptist Church, where he served on the media/sound ministry. Being driven, Howard got active under his new Pastor and continued a relationship with many members of the community. Under Covid, he began attending the Patterson Asbury AME Zion church in Baltimore to assist his sister with the sound ministry. In his spare time, you would see him at the Washington Redskins game, or the Bullets, now Wizard's game, and even the Georgetown Hoyas. He represented his teams in the Washington area and would celebrate their winnings or losses in his way. Hail to the Redskins! His past times included playing cards or planning and hosting events. Howard knew everyone and was not afraid to share himself with anyone. He was a servant leader and determined to please God in everything he touched.
Howard was preceded in death by his mother: Rose M Gant, brother: Calvin Gant, and sister: Vanessa Gant-Smith.
Howard Cook is survived by his devoted father, Elmer H. Gant; Goddaughter, April Nettles-Dillard; sisters, Ingrid N Gant, Robin Bowman, Bonnita Wessley, Louise Vaughters; brothers, Jayton D Gant (Wanda), Anthony A Gant (Felicia), William H Cook (Athena), Jeffrey Gant and Brothers of Phi Beta Sigma; family friend, Stanley Kendall, the entire VUU Nation; a host of nieces, nephews, cousins, and friends which many are here today.