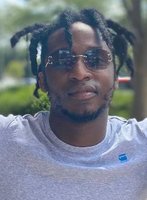 Martez Jackson Proctor
Martez Elijah Jackson-Proctor was born on January 20, 1995 in Washington, DC to the beloved parents of Martina E. Proctor and Reginald T. Proctor, Sr. Martez received his heavenly wings on November 10, 2020. Martez received his education in the DC and MD public schools where he was well known and loved. He worked as a journeyman who was skilled using his hands.
Martez enjoyed music, sweet red wine, traveling, and sports particularly the Dallas Cowboys. Fourth of July was his favorite holiday, you could always find him near the fireworks. When Martez wasn't having fun riding dirt bikes, paintballing, go-kart racing or being a back seat driver– he was with his brothers, sisters, and/or cousins. Family always has and always will come first. Martez loved standing out with different hair styles and clothes. He was always smiling, joking and the life of the party. It was never dull moment when he was around. He had an infectious personality. He enjoyed every moment and always screamed "YOLO." Martez was also known by his many nicknames Scrapball, Marty, Tez, Moo, and Krow.
Martez was preceded in death by his great-grandparents, John O. and Beatrice Short, his grandparents, Elaine Jackson, Cary McNair, Jr. and Samuel L. Proctor, and his uncles, Cary Jackson and Nennon Short.
Martez leaves to cherish his memory his loving parents, Reginald and Martina Proctor, his grandparents, Ellis R. Taylor and Lynn L. Short, his siblings, Sharday, Damohn, Jasmine, Jamari, Reginald, Jr., Christian, and Keith, nephews, Logan, Da'Kari, and Sante', nieces, Da'Najah, De'ana, and Donye', a significant other, Melissa Carroll, and children he loved as his own, Marshay, Banks, and Baylee. Martez also leaves behind many aunts, uncles, cousins, other relatives and friends.
I haven't really left you even though it may seem so; I've gone to my Heavenly home and I am closer than you know.